This Shrimp Po'Boy Sandwich with Remoulade Sauce is a classic sandwich bursting with New Orleans flavor. This dinner is deliciously seasoned shrimp, breaded to perfection, and wrapped in a hoagie bun. Top with all your favorite sandwich fixings and you have one satisfying meal.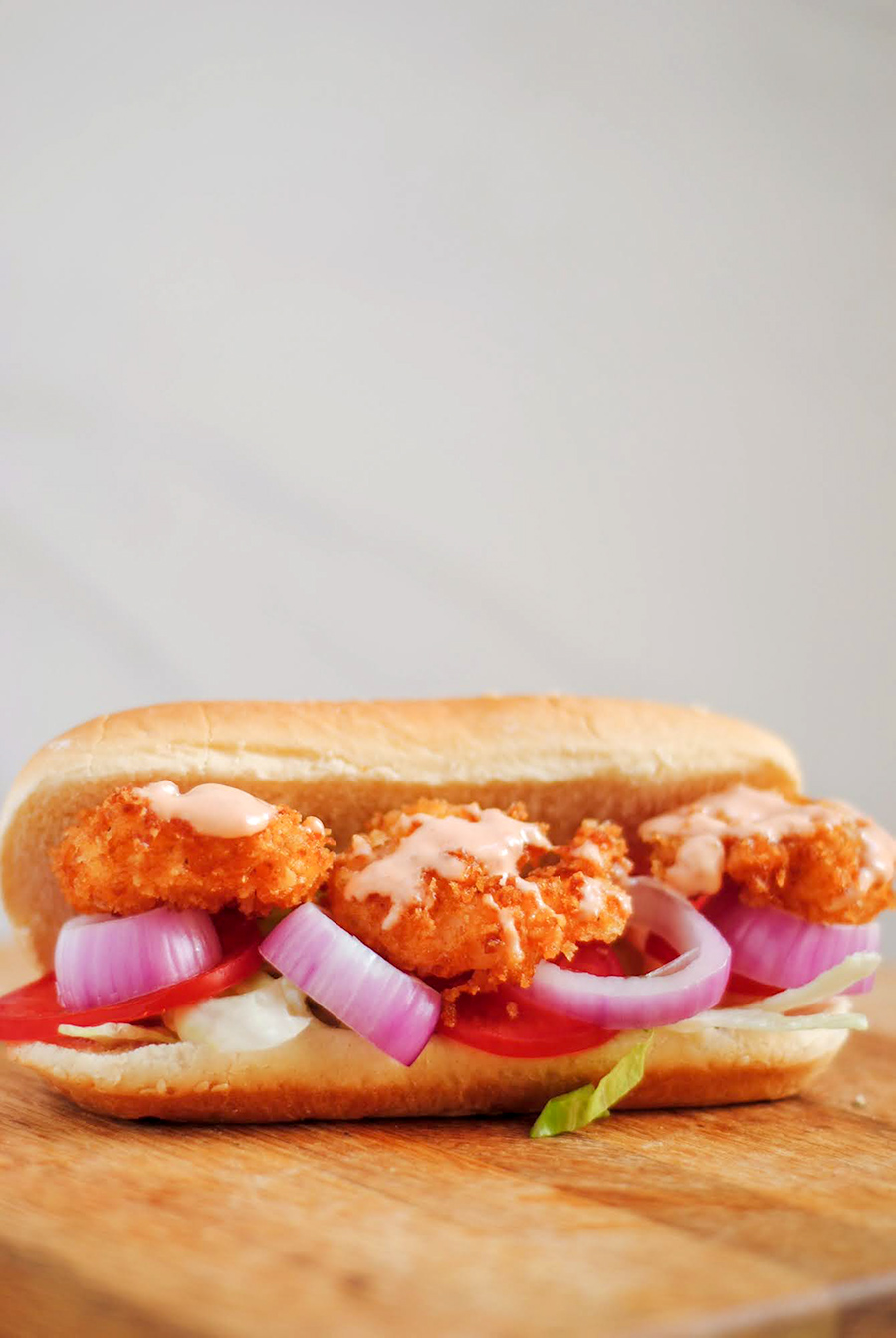 I think the most satisfying aspect of this shrimp po'boy sandwich is the bread. Picking the right bread is vital to making the texture of the sandwich just right. In New Orleans, they use a hoagie that has a soft center, but a crispy outside. This pairs so well with the texture of the shrimp and the coating used on them. It makes for a satisfying bite all the way through the sandwich. Definitely a combination that will hook you.
How to Make Shrimp Po'Boy Sandwich
Prep the shrimp ingredients – Heat your oil to 325 degrees. While heating, Place the breadcrumbs in one bowl and whisk together the milk, eggs, and hot sauce in a separate bowl. In a third bowl, mix together the remaining ingredients except for the shrimp.
Fry the shrimp – Coat the shrimp in the flour mixture, tap off the excess flour then stab with a fork and dip in the egg mixture. Dredge in breadcrumbs and drop in the oil, gently. Do about 5 at a time. Fry on each side for 2-3 minutes before removing from the oil and draining.
Make the sandwich – Assemble your sandwich in this order, lettuce, tomato, onions, shrimp, then top with remoulade sauce. Enjoy!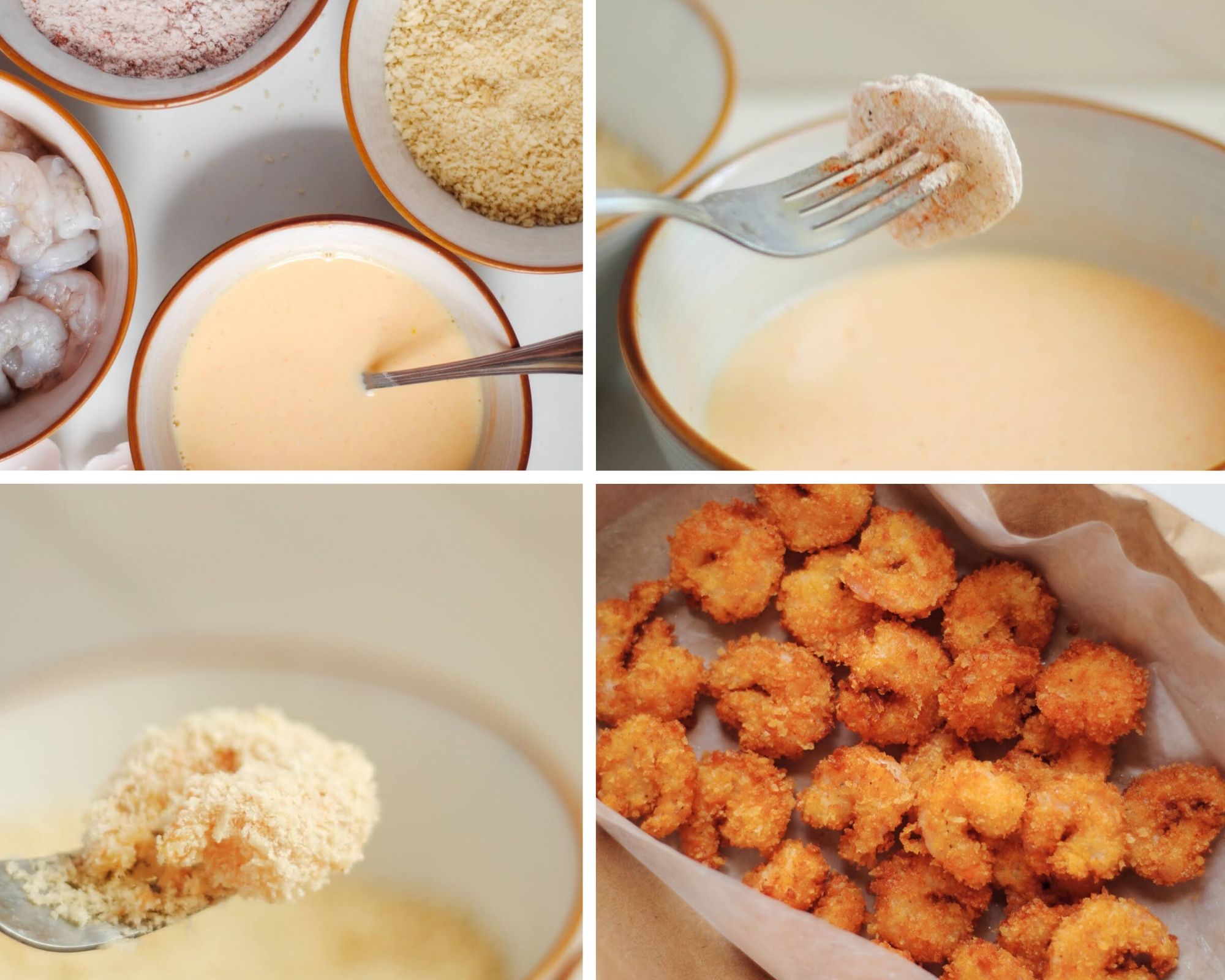 Tips and Variations
Storage – Place in an airtight container and store in the fridge for up to 5 days. Store the ingredients separately. Do not store on the hoagie as it will get soggy. You can freeze the shrimp in an airtight container for up to 2 months.
Reheating – When removing from the freezer, let the shrimp come to room temperature on their own, then place them in the oven for a few minutes. This will allow them to regain some crispiness. Placing them in the microwave will only add to the sogginess. For the fridge, skip the thawing step, but follow the rest of the steps.
Make it spicier –

 

This Shrimp Po Boy recipe already calls for hot sauce. This should make the sandwich spicy. However, if you want to add spice without adding more hot sauce, you can always add pickled jalapenos to the hoagie.
Make it mild – If you don't like any spice at all, you can use a mild sauce instead of hot sauce. Sometimes thousand island dressing makes a great addition.
Add more veggies – If you like loading your hoagie up with veggies, feel free to dress it how you prefer. Add or take away the veggies you like most. Just remember that different veggies will add or take away various flavor components of the meal.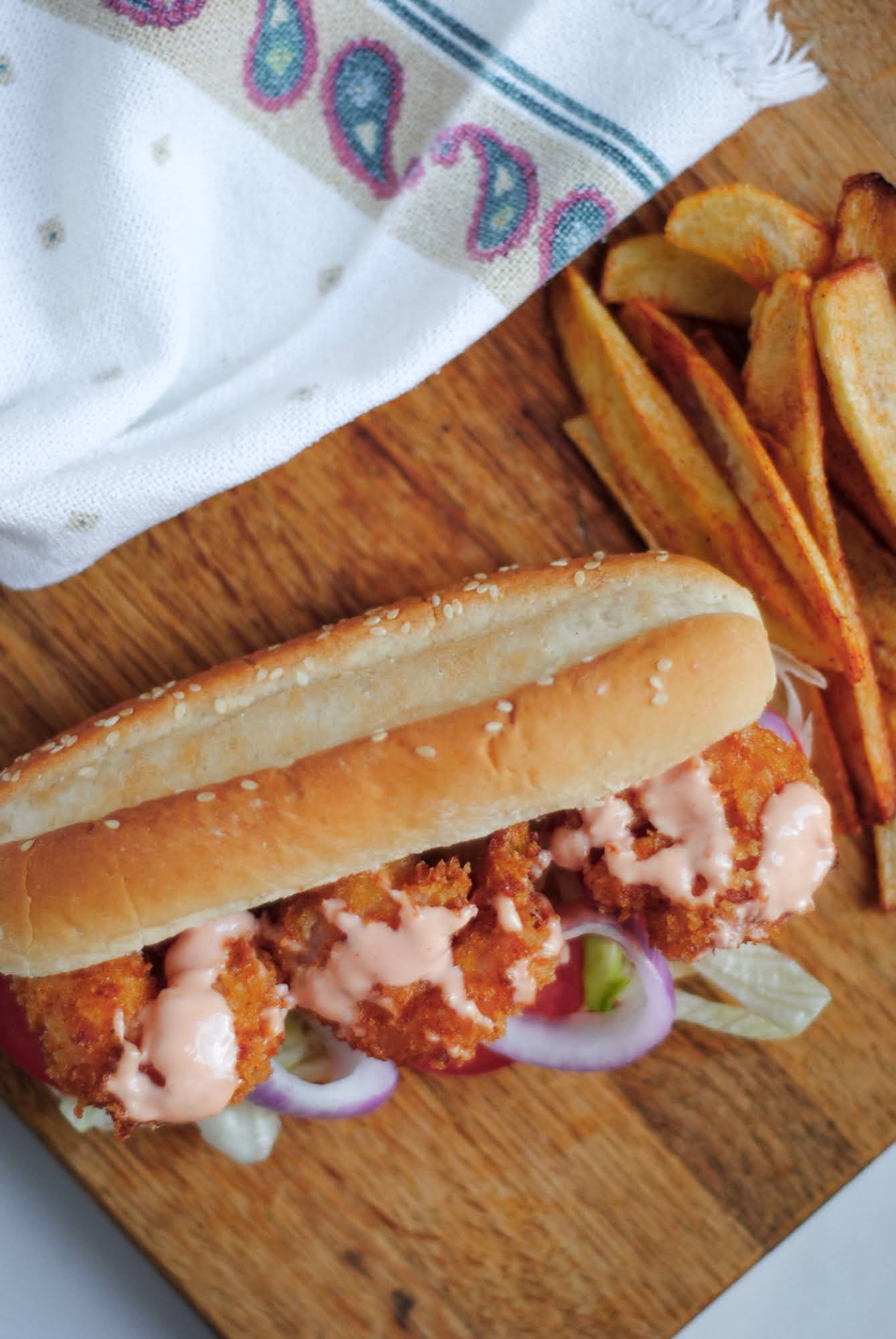 Why Do They Call it a Po'Boy?
This classic New Orleans sandwich used to be called a "peacemaker" until a 4-month long strike in the late 1920s. Two men owned a restaurant in New Orleans, but before that gig, they were streetcar conductors. In 1929, their coworkers from their previous gig went on strike against the company. These two gentlemen served them free sandwiches while making a joke at the same time that the men on strike were "poor boys." Since it's New Orleans, it ended up being pronounced "Po boy" and the name has stuck ever since.
Reach for this Shrimp Po Boy Sandwich recipe for dinner tonight then let me know in the comments below how you liked it!    
More Dinner Recipe Ideas…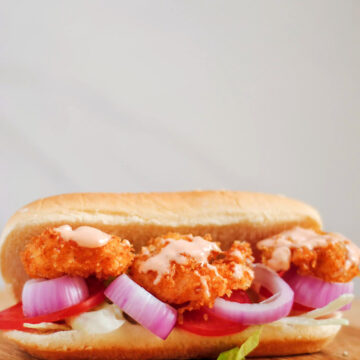 Shrimp Po'Boy Sandwich
This Shrimp Po'Boy Sandwich is a classic sandwich bursting with New Orleans flavor. This dinner is deliciously seasoned shrimp, breaded to perfection, and wrapped in a hoagie bun. Top with all your favorite sandwich fixings and you have one satisfying meal.
Ingredients
1

lb

shrimp

peeled and deveined

2

cups

panko breadcrumbs

2

eggs

1/2

cup

buttermilk

2

tbsp

hot sauce

1/2

cup

all-purpose flour

1

tbsp

cornstarch

1/2

tsp

cayenne pepper

1/2

tsp

garlic powder

1/2

tsp

onion powder

oil, for frying

salt and pepper to taste
Remoulade Sauce
1

cup

mayo

2

tsp

dijon mustard

2

tsp

whole grain mustard

1

tsp

hot sauce

1

tsp

vinegar

1

scallion

2

tbsp

capers

1

tbsp

parsley

salt and pepper to taste
Instructions
Heat the vegetable oil to 325 degrees Fahrenheit.

While the oil is heating, put the breadcrumbs in a bowl. In a separate bowl, whisk the eggs, buttermilk, and hot sauce together. In another bowl, whisk together the flour, cornstarch, cayenne powder, garlic powder, onion powder, salt, and pepper until well combined.

Add one shrimp to the flour mixture and coat completely before removingit and tapping off the excess flour.

Then, stick the shrimp with a fork and dip it into the egg mixture, but don't let it sit for more than five to six seconds before draining the excess egg off.

Lastly, dredge the shrimp in the breadcrumbs and toss the excess off before carefully dropping them into the hot oil. Add only five shrimp at a time so that the oil doesn't cool down.

Let them fry on one side for about three minutes before turning and frying on the other side for a minute or two, or until the shrimp turns a light brown or tan color on both sides.

Remove the shrimp from the oil and let drain over a cooling rack or on a plate with a paper towel.

Assemble the po'boy by adding shredded lettuce to the bun first, then tomato slices, then onions, then shrimp, and finally the remoulade sauce.

To make the remoulade sauce, whisk all of the ingredients and season with salt and pepper.