Start your morning off with the delicious flavor combination of Caramelized Mixed Berry and Banana Oats. Layers of tasty oats, chia seed pudding, and sticky sweet caramelized fruit come together to form one epic dish. Also great as a dessert, you'll rave over this recipe.
 I often end up eating breakfast recipes that could also be passed off as desserts. I think there are a lot of people like this. However, I'm not sure if that means I eat healthier desserts or if I eat very unhealthy breakfasts. I think it's a mixture of both. All I know is they're delicious.
Every time I've made these caramelized mixed berry and banana oats, I've gotten nothing but rave reviews. It's so satisfying and not overly sweet like it might sound. The tartness of the mixed berries adds a perfect spread of flavors.
How to Make Caramelized Mixed Berry and Banana Oats
Make the chia seed pudding – In a bowl, mix the chia seeds and water. Set aside.
Make the caramelized bananas – Heat a pot and slice bananas into rings. Place the rings flat on the bottom of the pot and let them cook for about a minute. Remove from the pan and set aside with the pudding.
Make the caramelized berries – In the same pot, you cooked the bananas, add the berries and a tablespoon of agave syrup. Cook until it turns into a thick red sauce, then stir and remove from heat.
Prepare oats – Place oats in a heated medium pan and let them roast for a few minutes. Add the mix and stir until thick. Separate into two equal bowls.
Dress the oats – Top the oats with the chia pudding, caramelized bananas, caramelized berries, and almonds. Serve immediately and enjoy!
Tips and Variations
Storage – Place in an airtight container and store in the fridge for up to 4 days. You can store the ingredients together except the chia pudding. I would store that in its own separate container. I do not suggest freezing any of these ingredients except the fruit. Store them the same as the fridge.
Reheating – Let the fruit come to room temp when bringing from the freezer then heat in the microwave. Heat the rest of the ingredients in the microwave except the chia pudding, let it come to room temp on its own, but do not heat. 
Use your favorite fruits –

 

If you don't like one of the fruits listed, use your favorite fruits for this recipe instead. You can always just use one type of berry from the recipe or just bananas. It's up to you on what fruit you want to add, but be aware that some fruits may not be able to be prepared like the fruits in the recipe.
No quick oats – If you use quick oats, you will end up with mushy oatmeal and that's not what you're going for with this recipe. Well, I mean, you can always eat tasty oatmeal with these toppings as well. However, if you want to eat the recipe as intended, go with something other than quick oats.
Add agave syrup – If desired, you can add agave syrup when cooking your bananas to add an extra boost of sweetness.
Skip the chia seed pudding – If you're not a fan of chia seeds or they creep you out, simply skip the pudding altogether. I guarantee this dish will still be quite delicious.
Which Oats are Best?
The best oats for this recipe specifically are either steel-cut oats or rolled oats. Do not use quick oats because they become like malt-o-meal consistency rather than retaining their shape. Steel oats and rolled oats are not quick oats so they'll become soft, but not mashy like quick oats.
More Delicious Recipe Ideas…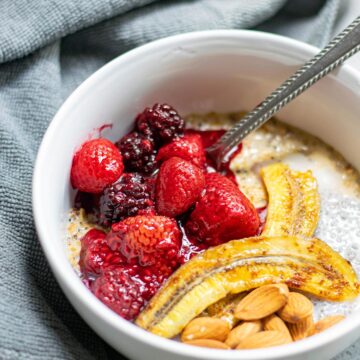 Caramelized Mixed Berry and Banana Oats
Start your morning off with the delicious flavor combination of Caramelized Mixed Berry and Banana Oats. Layers of tasty oats, chia seed pudding, and sticky sweet caramelized fruit come together to form one epic dish.
Ingredients
2

cups

mixed berries

frozen

1 1/2

cups

dairy-free milk

3/4

cup

oats

1/4

cup

almonds

1

tbsp

coconut milk

1

tbsp

agave syrup

2

tbsp

chia seeds

6

tbsp

water

2

bananas

cut in half
Instructions
In a small bowl, mix chia seeds with water. Let it soak while you prepare caramelized berries and banana rings.

Heat a non-stick pot on medium heat. When hot, place bananas gently in the pot. Let it caramelized with its own juice. It will take about 1 minute. If you wish you can add some drops of agave syrup. Flip gently to cook other side. Remove from pot and leave on the side.

In the same pot, add the mixed berries with 1 tablespoon agave syrup. It will start to lose the excess of water then it will evaporate to form a thick red sauce. Stir for some seconds then remove from heat.

In a medium non-stick pot, add oats. Let oats roast a bit on medium heat to bring out the flavors. Add milk and stir until a thick consistency. Remove from heat and transfer in 2 serving bowls.

Now that the chia seeds are soaked, add 1 tablespoon of coconut cream. Combine well.

Top oats with chia pudding, almonds, caramelized berries and bananas before serving.