Cool off from those warm summer months with one of these White Chocolate Peanut Butter Popsicles! They start off with a decadent white chocolate layer then end with a rich peanut butter layer. The combination of flavors along with the chilly delivery will make you forget all about that heat.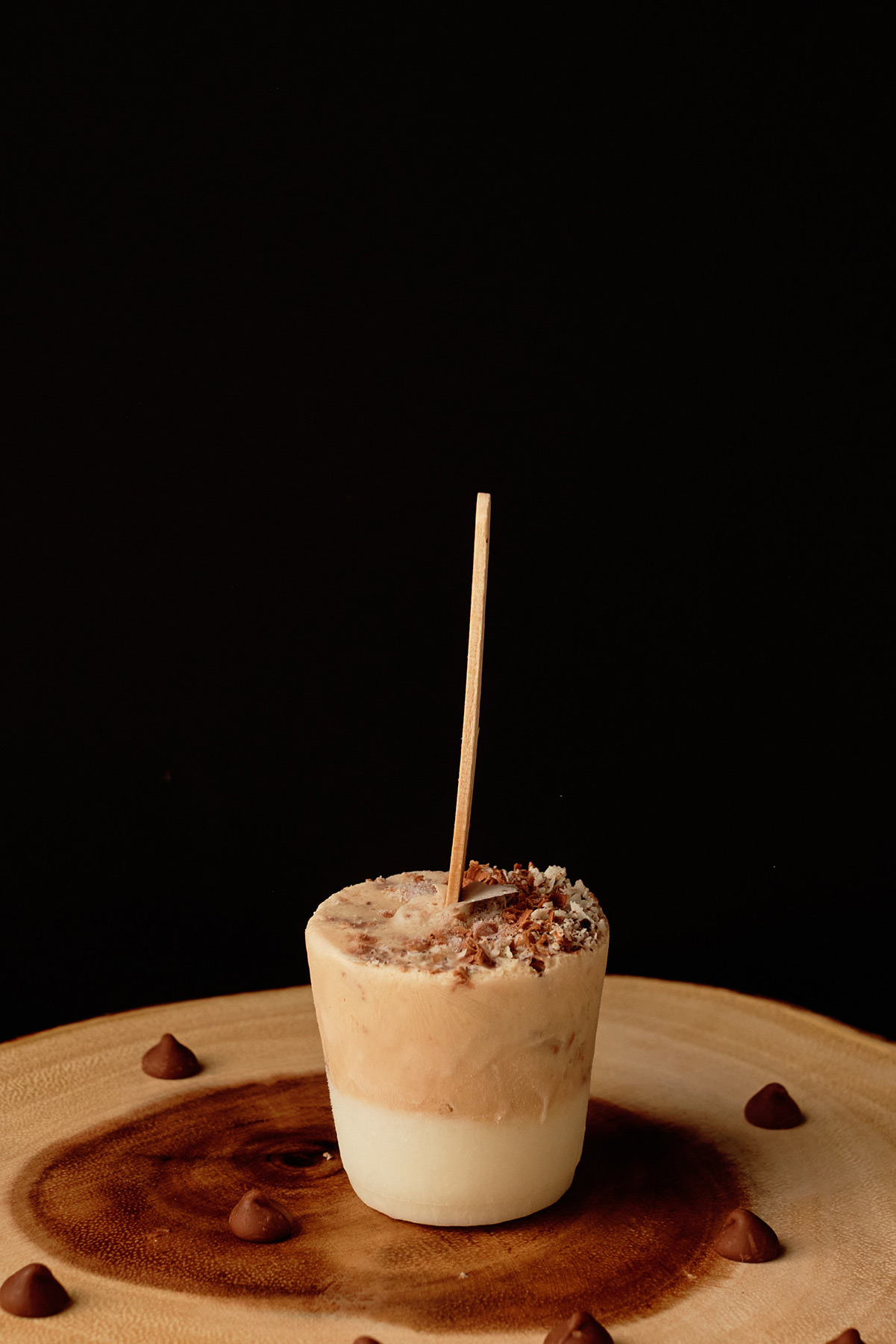 Is there anything better than sitting down with a cold drink, popsicle, or ice cream when it's super hot outside? The relief that floods over you are other-worldly. Although I'm not a huge fan of the heat, I definitely love that moment of relief because there's nothing like it. You sink down in your seat and let out a little sigh because it's that satisfying. Not to embarrass myself, but that was my exact reaction to these White Chocolate Peanut Butter Popsicles.
How to Make White Chocolate Peanut Butter Popsicles
Mix in the blender – Blend the ingredients for each layer in a blender, separately.
Freeze the first layer – Fill the popsicle molds halfway with the white chocolate layer. Freeze until solid.
Freeze the second layer – Add the peanut butter layer over the top of the white chocolate, insert the sticks, and freeze again.
Serve – Serve immediately or leave in the freezer until ready to be eaten!
Tips and Variations
Storage – Store in the freezer for up to a month. Can store in the popsicle holders or in an airtight container in a single layer.
Is this vegan-friendly? – With the recipe as-is, it's not vegan-friendly. However, there are only four ingredients in the recipe and all of them have vegan options that are easily picked up at any grocery store.
Add protein – In one or both of the layers, use a bit of protein powder flavored appropriately. This will give you a protein boost with your cool treat!
Is this gluten-free? – This recipe is gluten-free! However, always be sure to check the brands you buy since some products can be contaminated.
Peanut butter substitute – You can use almond butter or a similar product if desired.
Use other chocolate options – If you want to try other flavors, swap out the white chocolate for dark chocolate, milk chocolate, butterscotch, etc.
Use other vanilla flavors – If you want to play with other flavor profiles, you can also try using other yogurt flavors instead of vanilla.
Use small cups – If you don't have popsicle containers, you can use small cups to pour the contents in. Just be sure to not go very big with the cups or you'll end up with a giant popsicle.
Use craft sticks – If you don't have popsicle holders or you lost the sticks that come with them, you can use craft sticks. They sell them at Walmart and most similar stores. They're not pricey either!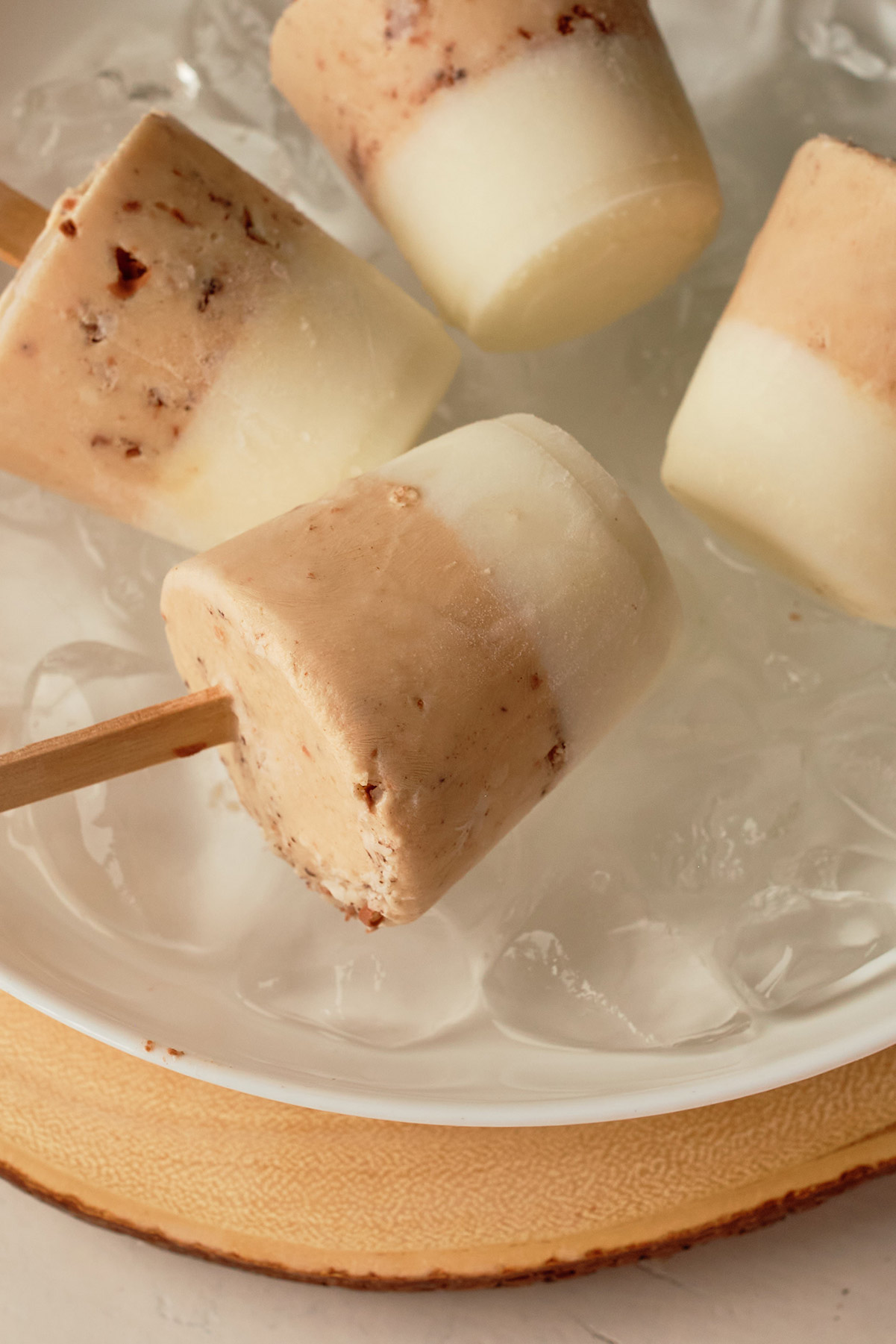 How Do You Make Homemade Popsicles Not Hard?
I know what you mean – those homemade popsicles can be just about impossible to eat. However, it's important to not just go and chill any liquid because it doesn't always turn outright. These white chocolate peanut butter popsicles have the addition of dairy, which allows them to still be edible once the freezing process is complete. If your liquid has sugar in it or added to it, the results will be flakier ice, but still easier to eat than a solid block of ice.
What Keeps Popsicles from Freezing Solid?
As mentioned above, it takes more than just throwing liquid in a container to get a good popsicle. There has to be a balance between the water and other ingredients such as sugar and dairy. If there's too much water present in a mixture, it will freeze more solid and be hard to eat.
Feel free to let me know in the comments below if you gave these White Chocolate Peanut Butter Popsicles a whirl or if you gave it your own adjustments!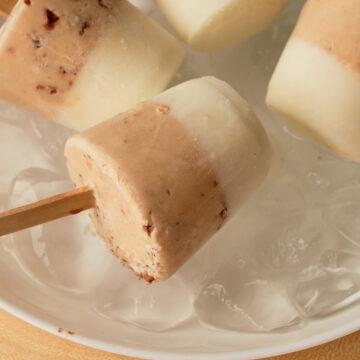 White Chocolate Peanut Butter Popsicles
These popsicles are super creamy but refreshing at the same time. Easy to make and only requires 4 ingredients.
Ingredients
2

tbsp

white chocolate

1

cup

vanilla yogurt
Peanut Butter Layer
2

tbsp

peanut butter

1

cup

milk
Instructions
Mix each layer ingredients separately in a blender.

Pour the white chocolate layer into the popsicle molds only filling to ½ way.

Place in the freezer for 90 minutes or until 75% frozen.

Pour in the peanut butter layer and place in popsicle sticks

Freeze overnight and enjoy.