Cottage cheese has taken the internet by storm and I have to admit that I'm quite obsessed myself! Down below are 12 of my favorite whipped cottage cheese recipes and I hope you enjoy them as much as I do.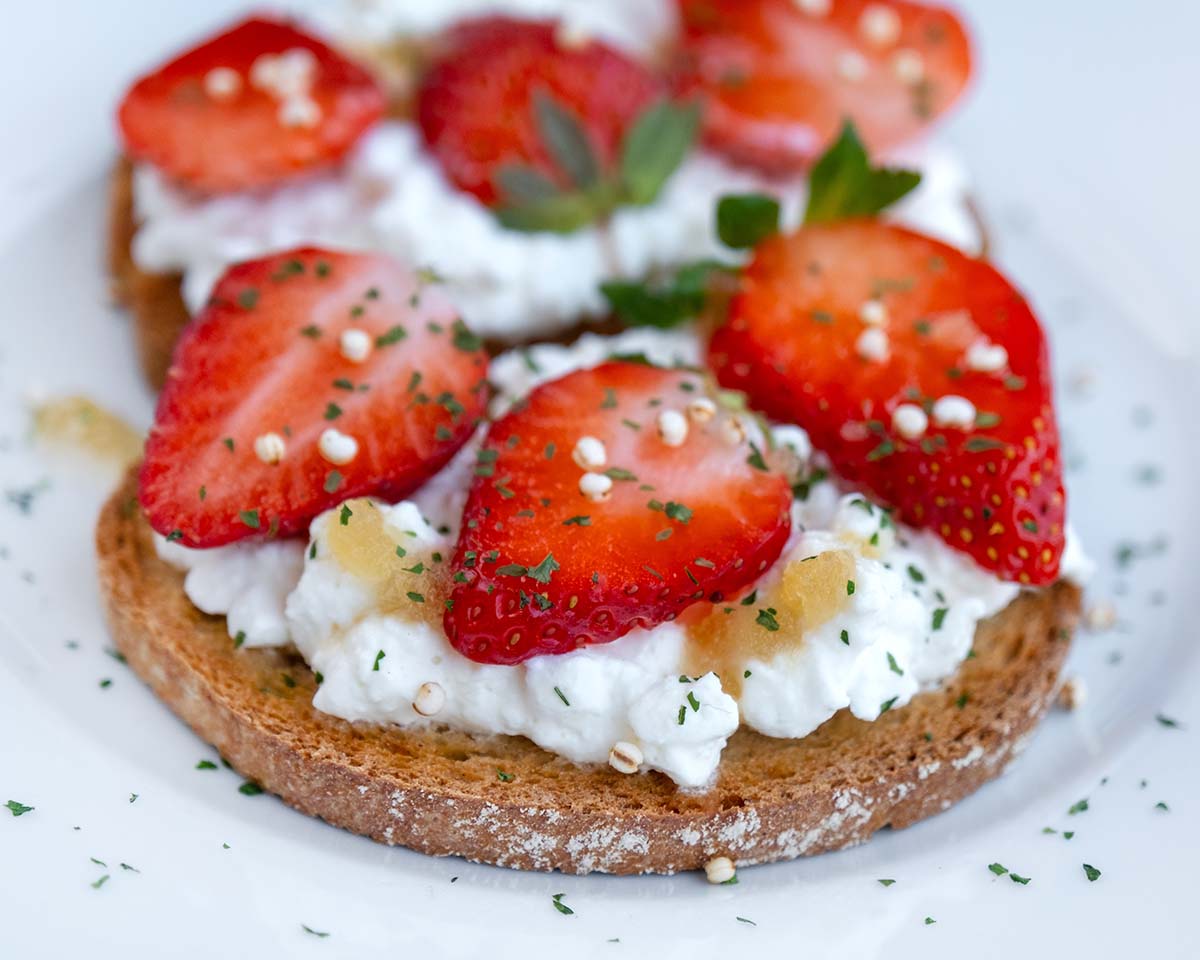 Cottage cheese is a type of cheese that is low in fat and high in protein, which can help you feel full and support muscle growth. It also contains calcium for strong bones and other essential nutrients. Plus, it's incredibly delicious!
Want a simple and fast recipe for a healthy pumpkin dessert that takes only 5 minutes? Try making pumpkin whipped cottage cheese!
It's smooth, yummy, and doesn't have unhealthy sugar or gluten. Plus, it's packed with protein and all the good stuff from pumpkin!
This whipped cottage cheese Dip is a super healthy and protein-packed recipe.
It's made by blending smooth cottage cheese and feta cheese with olive oil, and then adding marinated tomatoes and fresh herbs on top. It's really delicious!
Strawberry rhubarb sauce was mixed with cottage cheese to create this super easy strawberry rhubarb whipped cottage cheese! It's a tasty snack or dessert that's just right for enjoying the summer flavors of strawberries and rhubarb.
This berry whipped cottage cheese breakfast bowl is packed with good-for-you stuff and has fewer carbs!
The cottage cheese with berry flavor is whipped until it's smooth, thick, and extra creamy. It's a fancy-tasting breakfast, snack, or even dessert that you can personalize with your favorite toppings.
To make this healthy protein bowl, you'll need sugar-free orange Jello, cottage cheese, and yogurt. It's a low-fat, gluten-free treat that's packed with protein. Enjoy it as a yummy afternoon snack!
If you're a fan of creamy peanut butter treats, you'll really enjoy this keto whipped cottage cheese with peanut butter.
It's like a healthier version of peanut butter cheesecake because it doesn't have any sugar and is loaded with protein!
This whipped cottage cheese is airy and fluffy, perfect for dipping or spreading! You can enjoy it as a snack or for breakfast, and it's also great as a dip for parties.
This cucumber cottage cheese dip is creamy, refreshing, and packed with protein. It's a great choice for a quick breakfast, light lunch, or afternoon snack.
You can make it in just a few minutes, and it's a savory recipe that will definitely satisfy your taste buds.
This buffalo whipped cottage cheese dip is incredibly smooth and creamy, with amazing buffalo flavors! All you need is a food processor and 5 minutes to make it. Enjoy this delicious dip!
This whipped cottage cheese dip is full of tasty ranch flavor, has lots of protein, and is a healthier choice compared to other ranch dips.
You can use it as a dip or spread it on chips, crackers, or veggies for a yummy appetizer or snack.
This whipped cottage cheese dip has fresh herbs, a creamy texture, and a strong taste! Dill, chives, and seasonings make it flavorful, and crispy shallots add a tasty crunch to balance the creaminess.
This simple recipe is great for an after-school snack, game day dip, or high-protein treat.
Mango whipped cottage cheese is a delicious and healthy treat that's high in protein. It's great for breakfast or as a light dessert. It tastes really indulgent without all the fat and calories.
In this recipe, cottage cheese is whipped to create a smooth and creamy texture, without any lumps or chunks!
Tried any of these 12 delicious whipped cottage cheese recipes? Please leave a star rating in the recipe card below and/or a review in the comments section further down the page.