I love Oaxaca cheese because you can make quesadillas, queso, dip, etc. Down below I'm going to share 25 of my favorite Oaxaca cheese recipes!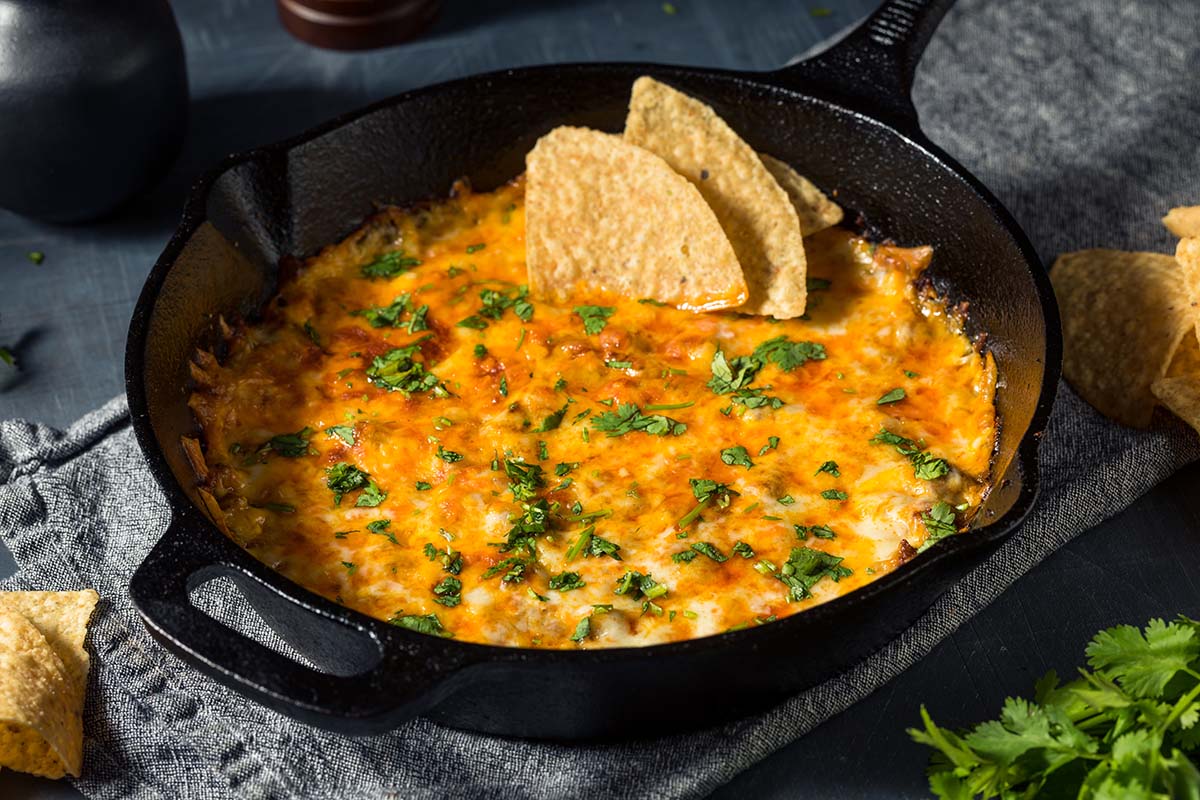 Oaxaca cheese is a traditional Mexican cheese that originates from the state of Oaxaca. It is a semi-soft, stringy cheese with a mild and slightly salty flavor.
It is commonly used in Mexican cuisine, especially in dishes like quesadillas, enchiladas, and chiles rellenos. Now let's get into these delicious recipes!
Get ready for a delicious variation of a popular sandwich! This Mexican tuna melt with Oaxaca cheese combines flavorful tuna with Mexican spices, melted Oaxaca cheese, and toasted bread for a satisfying meal.
Queso Fundido is a tasty and gooey cheese dip mixed with spicy Mexican chorizo and poblano peppers. This zesty appetizer is sure to be a hit!
These white chicken enchiladas are a yummy dish made with soft flour tortillas, shredded chicken, green chiles, and a scrumptious layer of Oaxaca cheese on top!
These birria tacos with consommé are a mouthwatering treat consisting of tender, slow-cooked beef that easily pulls apart, coated in a flavorful adobo sauce.
The tacos are then panfried with Oaxaca cheese until they become perfectly crispy. To enhance the taste even more, each taco is dipped into a delicious broth, creating the ultimate Mexican comfort food experience.
This queso fundido recipe is an ideal addition to Cinco de Mayo celebration! It features Mexican chorizo, onion, and garlic, combined with melted Oaxaca cheese, resulting in a tasty and simple appetizer.
If you're a fan of Chipotle queso, you'll absolutely love this recipe for homemade queso blanco dip! It includes three different types of cheese, along with a generous amount of cream and green chiles, creating a spicy and creamy dip that's incredibly delicious.
This recipe is prepared using a smoker at a low and slow cooking method, but if you don't have a smoker, there's another grilling option as well.
These pork chops are butterflied and filled with shredded Oaxaca cheese and roasted green chile strips, resulting in a combination of cheesy, spicy, smoky, and juicy flavors.
This tasty bean dip with melted cheese is incredibly simple to prepare and goes well when wrapped in a corn tortilla or enjoyed with tortilla chips.
If you're a fan of queso Oaxaca cheese, you'll definitely want to give this delicious variation of a grilled cheese sandwich a try. It's a delightful blend of indulgence and comfort.
Creamy avocados and flavorful black beans go together perfectly. Simply load them onto a quesadilla, add Oaxaca cheese, and you'll have a delicious dinner ready in no time!
Minced cube steak is seasoned with cumin, lime juice, and freshly ground pequin peppers. It's then cooked on a flat griddle alongside sofrito and creamy Oaxaca cheese. I just love this recipe!
These potato tacos dorados with Oaxaca cheese are loaded with flavor and super easy to put together! This is one of my favorite recipes!
Oaxaca cheese made from scratch! You definitely have to make this one!
Cheesy, creamy, and comforting! What more can you ask for? This recipe is made with green chiles, garlic, spices, and lot's of cheese!
Want to make a scrumptious dish with your leftover birria? Try making a super cheesy birria pizza! Start with a classic chewy pizza crust brushed with melted garlic butter, then add juicy beef birria, flavorful consommé, and lots of Oaxaca cheese on top.
These Oaxacan steak quesadillas are packed with flavor and so much better than the ones you get at restaurants! All you need is a few ingredients.
If you haven't tried Salvadoran pupusas before, get ready for a truly delightful treat. These crispy corn flatbreads are filled with melted Oaxaca cheese and spicy chorizo.
They are pan-fried until irresistibly crispy and served with a simple slaw. It may be simple, but the taste is absolutely delicious.
These smoky mushroom Oaxaca quesadillas are perfect for Vegetarians! Although, I'm not a vegetarian and I still love them! They're super delicious and very easy to put together.
These stuffed poblano peppers are filled with spicy chorizo, black beans, sweet corn, and Oaxaca cheese. They are baked in a tasty tomato sauce, resulting in a flavorful dish. If you're searching for a unique variation of stuffed peppers, this is the perfect choice!
The ultimate appetizer! These Oaxaca cheese and beef tamale bites are insanely delicious.
These migas are incredibly tasty! The crispy tortilla strips, scrambled eggs, and melted cheese are seasoned with onion and bell pepper, creating a fresh and homemade dish that is perfectly balanced and surprisingly easy to make.
These bean and cheese molletes are the best I've ever had! You need to try these asap. They are so so good and require minimal ingredients.
This Mexican favorite, squash blossom quesadillas – known as "quesadillas de flor de calabazas" – are filled with sautéed summer squash blossoms, garlic, onion, and Oaxaca cheese.
These quick and delicious appetizers are made with puff pastry and filled with Oaxaca cheese, pistachios, and hot honey, creating a burst of flavors.
They can be prepared in just 20 minutes, making them perfect for any gathering.
Chicken Alambre is a tasty dish made with seasoned marinated chicken cooked alongside fresh chorizo, bacon, onions, and peppers.
The flavorful mixture is then filled into a tortilla and topped with Oaxaca cheese, cilantro, and avocado for added deliciousness.
Tried any of these Oaxaca cheese recipes? Please leave a star rating in the recipe card below and/or a review in the comments section further down the page.