You don't need meat or cheese to create these delicious vegan tofu recipes. Everyone including meat lovers will love these quick and easy tofu meals.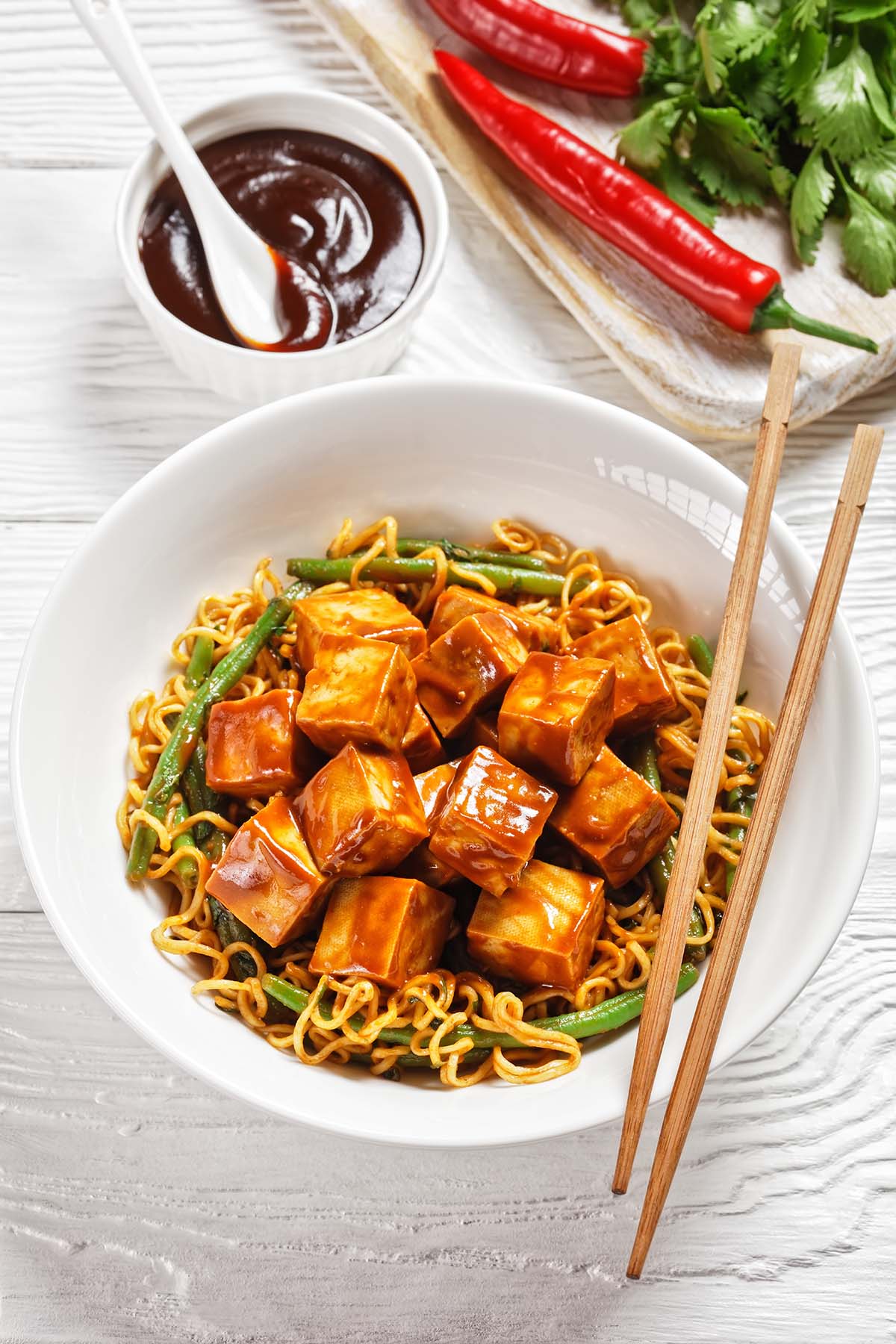 I love tofu because not only is it delicious, but it's also good for you. It's an excellent source of protein and contains several vitamins and nutrients. Down below I'm going to share some of my favorite recipes.
This tofu scallopini is pretty hard to resist. It's served with garlic rosemary cream and cooks in under 30 minutes! Serve it with pasta or mashed potatoes for a complete dinner meal.
Make restaurant-style tikka masala with tofu! It is a great vegan alternative to paneer and chicken tikka masala.
Mapo tofu is a famous Chinese dish from Sichuan province. It's spicy, delicious, and packed with flavor. Enjoy it with steamed rice for a perfect meal.
This recipe will convert any tofu hater into a tofu lover! These pan-fried tofu cakes are crispy, flavorful, and super easy to make. Serve them as an appetizer, snack, or main course.
These are the ultimate pan-fried teriyaki tofu bites! They're sweet, savory, and pair wonderfully with rice or steamed veggies. Requires only 4 ingredients to make!
Cook this tofu and broccoli stir fry in under 30 minutes! The tender broccoli and browned tofu are tossed in a delicious ginger garlic sauce and then topped with sesame seeds. This is one of my favorite meals to prepare on a busy weeknight.
If you grew up eating Salisbury steaks then this is the recipe for you! The main ingredients for this recipe are tofu and mushrooms while the rest are your basic everyday ingredients like soy sauce and garlic.
This marinated tofu is coated in garlicky maple syrup and soy marinade. It's super easy to put together and can be served over rice, veggies, or salad.
Want to impress your vegan friends? Make them a plate of these mouth-watering grilled barbecue tofu skewers. All you need is 2 ingredients!
This tofu scramble breakfast skillet is a tasty and nutritious breakfast or late-night snack! It's made with tofu, potatoes, spinach, and peppers.
If you love tofu and peanuts, this is the salad for you! It's crunchy, super flavorful, and incredibly easy to make. A homemade salad that's sure to keep you satisfied!
This black pepper and thyme-crusted tofu make a tasty addition to almost any meal. It's crispy on the outside and deliciously tender on the inside!
Push the takeout menu aside and make this vegan kung pao tofu instead! A Chinese Szechuan dish made with tofu, roasted peanuts, peppers, and chili garlic sauce.
This crispy tofu katsu is coated with panko breadcrumbs and then fried to perfection. It's served with noodles and veggies in a bowl. Hands down the best bowl I've ever had!
This vegan bibimbap is a Korean rice dish made with spinach, mushrooms, carrots, tofu, and Korean chili paste. It's filling, tasty, and pretty easy to put together!
These vegan tofu sticky fingers are going to be a smash hit at your next get-together! They're sweet, spicy, and served with homemade vegan blue cheese dip.
Spicy popcorn tofu nuggets served with homemade bang bang sauce, what more can you ask for? The nuggets are seasoned perfectly, coated with potato chips, and then baked to perfection!
Instead of regular ole pizza dough, this pizza tofu uses tofu as the dough! That's pretty genius if you ask me. I made these a few days ago and my nieces and I loved them!
Crispy tofu satay served with homemade peanut sauce. The tofu is marinated with spices, soy sauce, and brown sugar while the peanut sauce is made with coconut milk, red curry paste, and tamarind paste.
This crispy baked garlic tofu is baked to perfection and then tossed in a thick garlicky sauce. I've been making this recipe for a while now and it comes out perfect every single time!
Tried any of these vegan tofu recipes? Please leave a star ⭐️⭐️⭐️⭐️⭐️ rating in the recipe card below and/or a review in the comments section further down the page.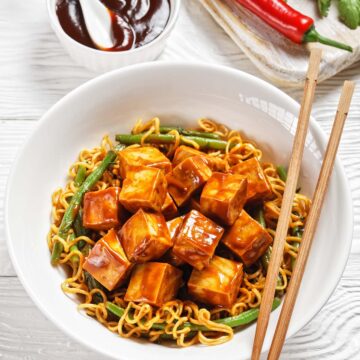 20 Easy Vegan Tofu Recipes
You don't need meat or cheese to create these delicious vegan tofu recipes. Everyone including meat lovers will love these quick and easy tofu meals.
Instructions
Measure all of the required ingredients.

Prepare the delicious vegan tofu recipe.