I'm going to share with you 10 of my favorite chicken keema recipes! They're loaded with spices, chicken, and a few other delicious ingredients.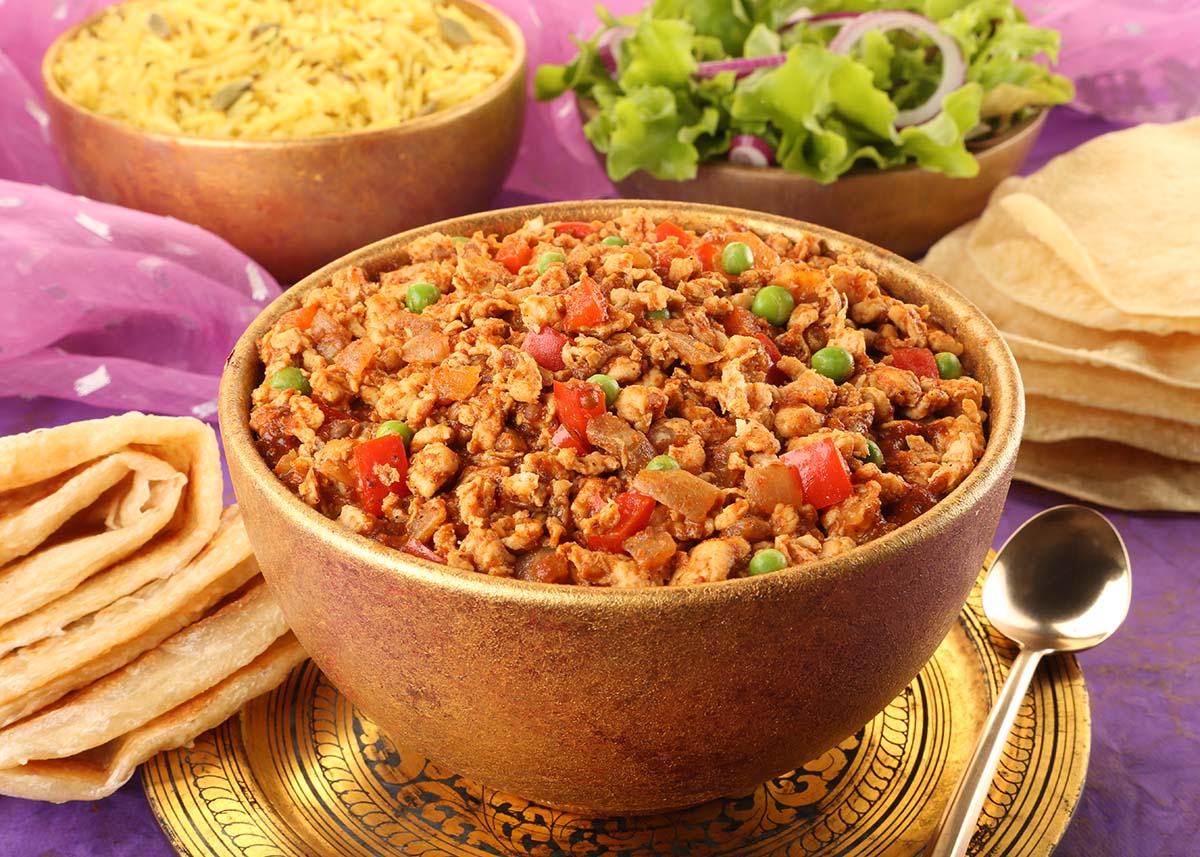 WHAT IS CHICKEN KEEMA?
Chicken keema is a dish made from ground or minced chicken. It typically involves cooking ground chicken with various spices, herbs, and other ingredients to create a flavorful and savory mixture.
The keema can be used as a filling for various dishes like keema paratha, samosas, or stuffed peppers, or it can be served as a main dish with rice or bread.
This dish showcases the blend of minced chicken, onions, tomatoes, and a medley of aromatic spices.
Its preparation is effortless, creating a dish that pairs wonderfully with Indian bread, satisfying the palate with its robust flavors.
Looking for an escape from boring chicken curries? Allow me to present an uncomplicated recipe for Chicken Keema Matar that overflows with delightful flavors.
The credit goes to a harmonious blend of fragrant spices that create this dish with an irresistibly delectable taste, sure to be savored by your entire family!
This recipe is one of my favorites! It's loaded with flavor and super simple to prepare. Serve it with rice or naan!
Indulge in the enticing chicken keema curry, where minced chicken is cooked with a selection of spices and fragrant herbs.
Brace yourself, for this delightful chicken keema recipe is bound to become your newfound obsession. Whether you choose to relish it with sourdough bread, crispy parathas, or Chapathi, be warned that stopping at just one serving might prove to be an impossible feat!
Aromatic Indian chicken curry infused with delightful hints of sweetness and tanginess. This delectable dish combines generous amounts of garlic, along with tender green beans, to create a symphony of flavors that will transport you to culinary bliss with every bite.
Looking for a versatile recipe? Look no further than this marvelous minced meat Indian dish.
It harmonizes perfectly with a variety of accompaniments, such as tacos, dosa, pav/bread, or even a side of warm naan. The options are endless, ensuring a delightful culinary experience with every pairing.
This recipe features minced chicken cooked with onions, tomatoes, ginger, garlic, and a medley of earthy spices, resulting in a rich and peppery taste. This delectable dish is best enjoyed alongside lightly toasted Ladi Pav (bread rolls), generously slathered with butter or ghee on the griddle.
The recipe for chicken keema follows the Hyderabadi style, featuring a straightforward method that incorporates onions and tomatoes.
Although it is commonly associated with Hyderabadi cuisine, variations of this style can be found across different regions of the country, each with slight tweaks and variations.
A succulent and spicy delight bursting with authentic Indian flavors. This moist and aromatic keema is the ideal accompaniment to pavs, rotis, and dosas, providing a satisfying and mouthwatering experience.
An irresistible dish that deserves a spot on your must-try list. It boasts an intricate tapestry of flavors, skillfully blended with the luscious and velvety touch of coconut milk. Prepare to be captivated by the harmonious union of tastes that this dish offers.
Tried any of these 10 chicken keema recipes? Please leave a star rating in the recipe card below and/or a review in the comments section further down the page.