Here are 10 fantastic black pepper angus steak recipes! Some are cooked in the slow cooker and some on the stovetop but they are all incredibly delicious!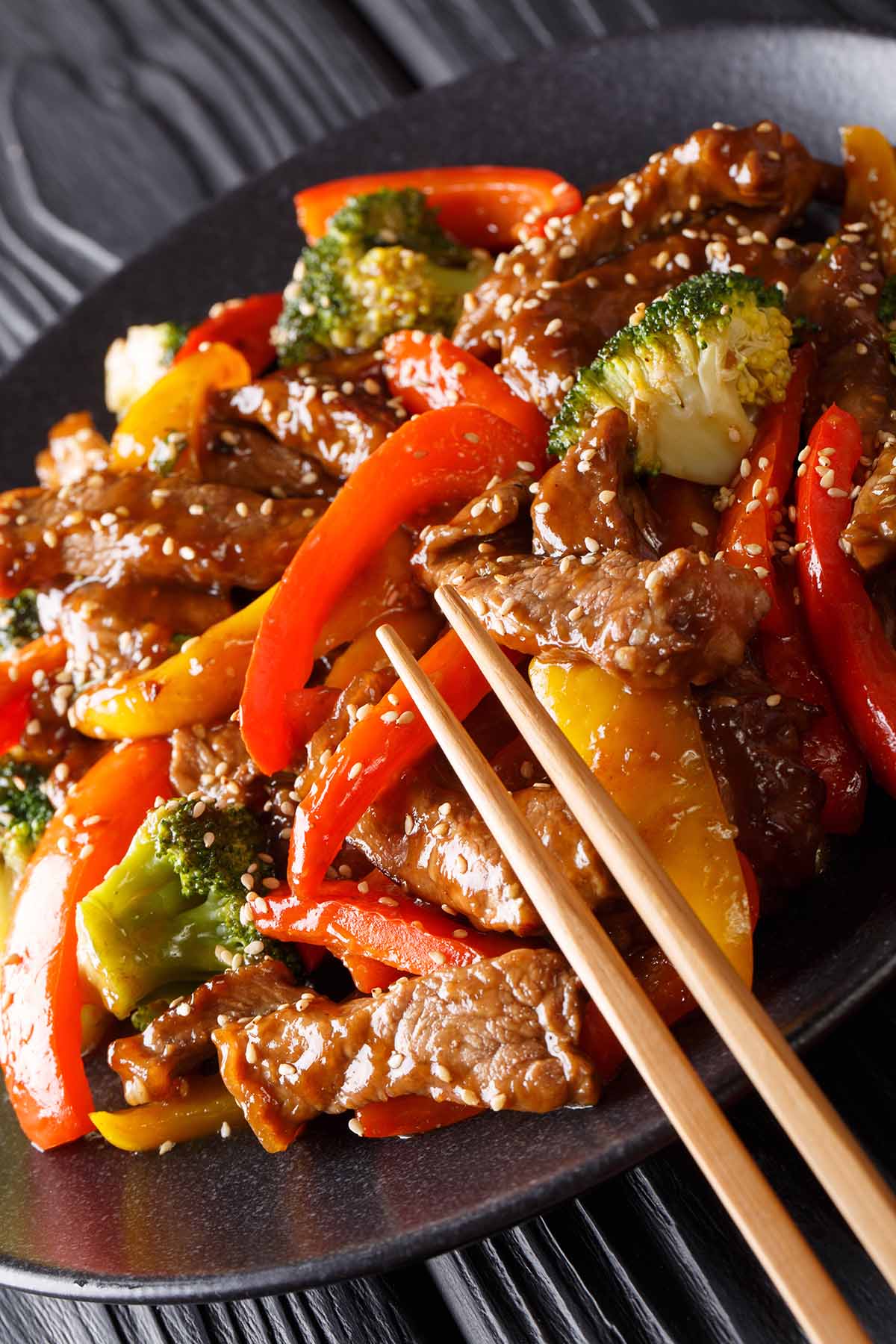 Now let's dive into these yummy recipes…
Introducing a delicious twist on a classic favorite: peppery beef delight. Succulent beef slices are stir-fried to perfection in a savory black pepper sauce, accompanied by vibrant green and red peppers, as well as tender onions.
This sensational meal is not only bursting with flavors but can also be prepared in 30 minutes or less, making it an ideal choice for a quick and satisfying weeknight dinner!
Prepare to indulge in a culinary masterpiece: Vibrant Bell Pepper Steak Stir-Fry. Immerse yourself in a tantalizing symphony of flavors as succulent flank steak and colorful bell peppers gracefully dance in a delectable sauce infused with the aromatic essence of garlic and ginger.
This uncomplicated yet incredibly gratifying dish promises to captivate your taste buds and leave you fully satiated.
Get ready for a sensational dining experience with our quick and easy black pepper Angus steak, inspired by the renowned flavors of Panda Express.
This delightful copycat recipe is expertly crafted to surpass the quality of takeout, all while requiring just minutes of your time. Succulent Angus steak, perfectly seasoned with bold black pepper, creates a harmonious blend of taste and tenderness.
Indulge in a burst of bold and enticing flavors with my irresistible pepper steak. Whether you're craving a swift and gratifying meal, this recipe is the perfect solution.
Prepare to be immersed in a rich and luscious sauce, generously adorned with an abundance of peppers and onions.
This crockpot pepper steak is cooked in the slow cooker until tender. A quick and easy recipe that's delicious and loaded with flavor.
This recipe is not only effortlessly easy to make, but it also surpasses the taste and quality of any restaurant version you've ever encountered.
Don't delay—treat yourself to an unforgettable dining experience tonight with this incredible dish!
Experience the amazing blend of juicy steak and crunchy bell peppers, cooked to perfection and bursting with delicious flavors.
You'll love how easy it is to make Chinese pepper steak with onions. The key to its incredible taste is frying the black pepper separately, not mixing it with the sauce.
And don't forget to add the butter at the end for an extra special touch.

Get ready to indulge in the ultimate taste explosion with this restaurant-style Chinese black pepper beef. Thin strips of tender steak and crunchy fresh vegetables are expertly stir-fried and coated in an unbelievably tasty sauce.
The best part? It only takes 30 minutes to make!
One of my favorite pepper steak recipes! Packed with flavor, easy to make, and makes great leftovers!
Tried any of these black pepper Angus steak recipes? Please leave a star rating in the recipe card below and/or a review in the comments section further down the page.